Dragon Skin™ 10 NV
Low Viscosity, High Performance Silicone Rubber
Dragon Skin™ 10 NV is a low viscosity, high performance addition cure silicone rubber that is easy to use and versatile. Mix ratio is 1A:1B by weight or volume, pot life is 15 minutes and cure time is 75 minutes at room temperature. Rubber cures with negligible shrinkage to a Shore 10A. Vacuum degassing is not necessary. Colour is water white translucent.
Quick Tech Data
1A:1B

Mix Ratio By Volume

1A:1B

Mix Ratio By Weight

15 minutes

Pot Life

75 minutes

Cure Time

10 A

Shore Hardness
Dragon Skin™ 10 NV is suitable for making molds of any configuration for casting plasters, wax, low-melt temperature metal alloys, and resins.
Dragon Skin™ 10 NV is suitable for special effects applications. Color can be added with Silc Pig™ color pigments. This rubber can be thickened with Thi-Vex™ thickening agent or softened with SLACKER™ additive. Cured material is skin safe and certified by an independent laboratory.
Important: Do not cast other tin or platinum based silicones into molds made with Dragon Skin™ 10NV. They are not compatible and inhibition will result.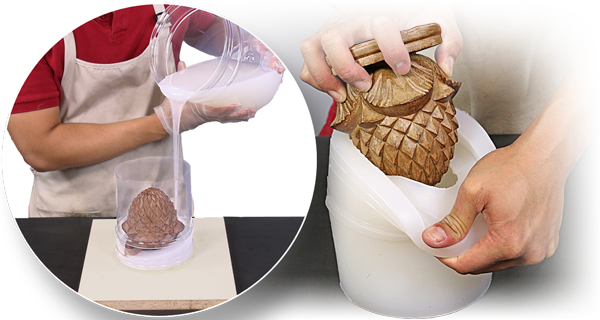 Videos
Complicated Mold Process Made Easy Using Dragon Skin™ and Mold Star™ Silicone
Mold Making Challenge: Bear Skull and Jawbone (Making Things with Milo)
How To Make a Seamless Resin Casting Using Dragon Skin® 10 NV