EZ-Spray™ Silicone 20
Sprayable Silicone Rubbers
Sprayable platinum cure silicone developed especially for making high performance, reusable vacuum bags. 20 minute cure time. EZ~Spray™ Silicone 20 is a sprayable silicone which cures quickly to soft rubbers with high elongation and tear strength. Liquid silicone is sprayed through the EZ~Spray™ Junior Cartridge System which is an economical alternative to expensive spray equipment. After a suitable thickness is attained, EZ~Spray™ Silicone 20 cures in about 20 minutes. EZ~Spray™ Silicone cures with negligible shrinkage to strong, durable silicone rubbers good for production casting of polyester, epoxy or urethane resins, gypsum, concrete and other materials.
EZ~Spray™ Silicone 20 silicone is effective at making fast, cost effective vacuum bags for producing composite parts. Newly sprayed or injected bags can be removed from the mold in a matter of minutes and used immediately in production with polyester or epoxy resin systems. The advantage that EZ~Spray™ Silicone offers vs. conventional vacuum bagging systems is the speed at which a production-ready silicone bags can be made resulting in significant time and labor savings. Read the EZ~Spray™ Junior manual prior to spraying.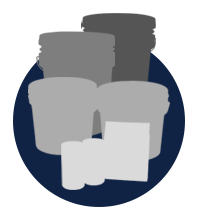 Please contact us for available sizes and pricing.
London
| tel: +44(0) 208 751 6521
Kidderminster
| tel: +44(0) 1562 515121