duoMatrix NEO
Polymer Modified Gypsum
duoMatrix™ NEO is a versatile polymer modified gypsum system that has superior physical and performance properties compared to regular gypsum products. Part A is powder and Part B is liquid. The mix ratio of NEO is a convenient 2A:1B by volume.
duoMatrix™ NEO is easy to use and can be cast solid, laid up by hand with chopped fiber or sprayed. Fully cured pieces can be painted, sanded, machined and polished. duoMatrix™ NEO can be used to make lightweight pieces that are very strong and water-resistant. NEO has received a flame rating of UL-94V-O and meets the ASTM E-84, Class A (or 1) flame rating for building materials, which means this product meets the highest standards for both flame and smoke.
Applications include making architectural elements, reproducing sculpture and creating theme effects. Coloring material is possible by adding concrete iron oxide powder pigments. Metal powders (bronze, pewter, brass, etc.) can be added to give the look of real metal castings at a fraction of the cost. You can duplicate the look of marble or ceramic by adding inexpensive fillers. Crushed stone can be added to simulate the effect of carved stone (sandblasting or abrading required).
PRODUCT MAY FREEZE IN TRANSIT – order may be delayed due to freezing temperatures.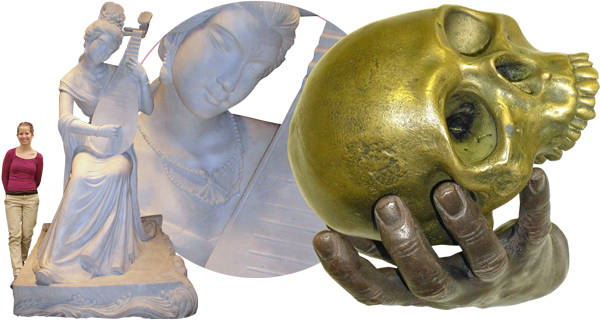 Videos
Rotocasting duoMatrix - How to Make a Hollow Impact Resistant Casting
How To Eliminate Surface Bubbles in Your Casting - Pressure Casting duoMatrix NEO
How To Make a Metal Cold Casting Using duoMatrix™ NEO and Real Metal Powder
How To Make a Hand Lay Up Casting Using duoMatrix™ NEO and Matrix™ Chopped Glass
Coloring duoMatrix™ NEO Using Buddy Rhodes Pure Collection Powdered Pigments