Ultimate Blood™ Kit
Special Effects Blood System
Ultimate Blood™ was tested and passed for skin sensitivity per OECD Test Guideline 439. This test was developed to determine skin sensitivity of materials.
Ultimate Blood, Ultimate Control – Make it Thicker, Make it Thinner & Change Colour. You can change the viscosity of Ultimate Blood™ on the fly. Change colour quickly with colour additives. The Ultimate Blood™ Kit is the most realistic and versatile liquid blood system available anywhere. It perfectly simulates human blood in how it looks and flows. Ultimate Blood® is ideal for creating special effects, medical training and simulation, moulage or any project in need of highest quality theatrical stage blood.
Kit includes Ultimate Blood™ base, pigments, thinner and thickener.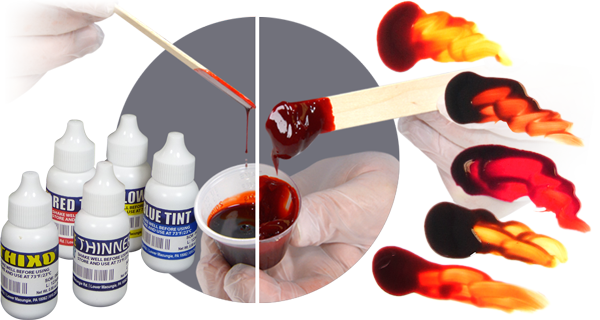 Videos
Face Wound Special Effects Makeup Tutorial
Bullet Hole Makeup Effects Tutorial featuring Smooth-On Ultimate Blood Kit